Creating an account in your store may not be a complicated process, even though most of the time customers won't bother about an account. But once they have an account in your store, you can get their email address and boost your marketing.
The easiest way to encourage a visitor to create an account is, offering them a SignUp coupon. Later on, they can be loyal subscribers. You are not demanding anything, instead, you are giving them a deal, then why not?
What is a SignUp discount coupon in WooCommerce?
SignUp discount coupon is exactly what it sounds like, it is a deal offered to the customers after they sign up for an account in your store. 
A few of the benefits of rendering Sign-up coupons are:
Increase number of subscribers

Collect customer information and improve marketing

Motivate customers to engage with campaigns

Create a bunch of loyal customers

Influence people to purchase more products
Check out our tutorial to know how signup coupons can be autogenerated using an extension plugin.
How to implement SignUp coupons in your store?
There are different ways to implement SignUp coupons in your WooCommerce store. In this section, we are discussing an effortless method to create auto-generated SignUp coupons using the plugin  Smart Coupons for WooCommerce. Once you have finished installation and set up follow the below three steps 
Step 1: Create a discount coupon
Navigate to

WooCommerce

>

Coupons

Click on

Add coupon

button you will be redirected to Add new coupon window

Key in

Coupon code

and an appropriate description(optional)
4. Select a Discount type and enter the Coupon amount on the General panel. You can also make coupons available on the My account page.
5. Now Publish the coupon.
Refer to the below screenshot for better understanding.
Step 2: Associate added coupon to create a Signup coupon
Navigate back to the

Coupons

page and Action Coupon tab will be visible here

Click on

Action Coupon

tab and go to

Signup coupon

Enable Signup coupon

Associate the coupon you published before by selecting it from the

Associate a master coupon

field
Step 3: Configure Signup coupon
a) Use your master coupon code(example: Off50) as it is by enabling the option

Use master coupon code as is (Upon successful signup the email ids of the corresponding users will be added to 'Allowed emails' under Usage Restriction section of the master coupon.)
OR
b) Generate a unique coupon code for every new customer by disabling the option

Use master coupon code as is (These coupons will follow the same configuration as the master coupon, the difference being a unique coupon code)
        2. Key in appropriate Prefix and Suffix 
3. Enter Length of coupon code
4. Now Save all the details
Now you have successfully created a SignUp coupon. On signing up you will receive a coupon code in your registered account. It can be a unique coupon code or the code you generated as per the settings you have done.
Email content for customers about Signup coupon will be like this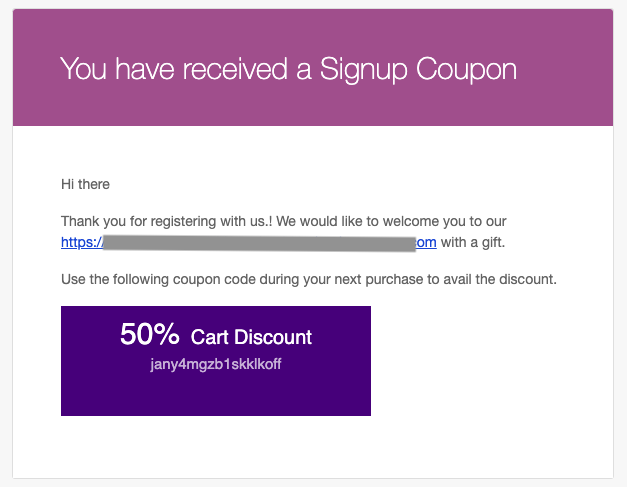 For more information on creating coupons, read this documentation.
To know more about other features, check the product page.
Was this article helpful?