Are you looking for the best WooCommerce plugins you must have to skyrocket the sales on your store? Then this is the ideal place for you.
WooCommerce is one of the in-demand eCommerce platforms that is being used widely for making online stores. WooCommerce is a free plugin, which can make your simple WordPress website into an attractive eStore, which makes it the best choice for many entrepreneurs. All you need to do is get WooCommerce installed on your WordPress site and then customize the same effectively.
Just a quick search for plugins on your WordPress will land you into plenty of options that are sure to confuse you. The very fact that there are plenty of plugins available, you might find it hard to choose from the list. It is surely going to be like finding a needle in a haystack.
To enhance the features of WordPress WooCommerce you can install various plugins or extensions that are available online, both free and premium, and make it much more appealing. You can instantly create an eStore that you dreamt of, using WooCommerce.
If you browse through the endless list of plugins that can come in handy for your online store, you might get confused. So here we have listed the 16 Best WooCommerce plugins you must have to kick start the process of selling online to attain promising results.
WooCommerce plugins to Skyrocket your Sales
Let's get to the plugins…
1.Optinmonster

To run a store successfully, you need a strong group of customers. And to help convert the website visitors into subscribers or paying visitors you can make use of OptinMonster.
This is a powerful conversion optimization tool that helps you obtain more leads and gradually increase sales. The tool lets you build various stunning campaigns with just simple and easy drag and drop design or pre-built design templates. It also lets you create eye-catching pop-ups, and much more, without even breaking your head through codes.
2. Smart Orders Manager & Statistics for WooCommerce
The Smart Order Manager & Statistics for WooCommerce plugin enhances the native functionality of the WooCommerce order process. The plugin lets you merge orders, mark the order statuses with markers, and also helps to manage orders by product. In short, the plugin makes store management effortless.
3. ELEX Dynamic Pricing and Discounts plugin
Grab the options to offer discounts, flat rates, percentage discounts, and much more using the ELEX Dynamic Pricing and Discounts plugin. The plugin will ease your pricing strategies and help you apply discounts on product, category, and even combination levels.
You can make use of the simple interface to derive dynamic pricing and discount strategies by applying complex rules.
4. WPML
When you are planning to expand your business across locations, the first thing you need to worry about is the localization of your store. The very first step for the same is to be able to set multiple languages on your WooCommerce store.
The WPML plugin lets you easily translate your products on your WooCommerce store. Upon doing so, your customers can choose the preferred language to browse your store.
WPML comes with WooCommerce Multilingual, a free add-on from the WPML team which translates all WooCommerce products, enables running a single WooCommerce store with multiple currencies based either on a customer's language or location and even sends emails to clients and admins in their own language.
5. Cost of Goods for WooCommerce
"Successful eCommerce stores are always on top of their numbers. They understand their metrics and how to improve them. One of the most important metrics, that is often ignored by many WooCommerce store owners is the gross profit margin. Unfortunately, by default WooCommerce does not track this. However, there are several different solutions available. One such solution is the Cost of Goods Plugin. It's a comprehensive solution that helps you track costs and profits for your WooCommerce store. The main feature of the plugin is the ability to add costs to products and calculate profits for orders."
6. Cartflows
Trouble-free and smooth checkout has great influence on conversions. With Cartflows, you are going to provide your customers with the best checkout experience possible.
It comes with a bundle of built-in conversion templates that you can one-click import and easily customize to meet your store specific needs. Offers have tremendous potential to boost sales. With cartflows you can add irresistible offers and generate more revenue for your store.
WordPress funnel builder, one-click upsells, A/B split testing, checkout form layouts, Analytics & Reports, etc., are other major features offered by the plugin.
7. ELEX WooCommerce Request a Quote Plugin
Allowing your customers to place a quote request on your products is indeed an ideal way to attract more customers, especially the ones who are interested in buying in bulk quantities.
Using the ELEX WooCommerce Request a Quote Plugin, you can allow the customers to negotiate on your online store. The plugin allows to hide the "Add to Cart" button and also replace it with the "Add to Quote" button. Also, there are options to trigger notifications to store admin via email, SMS, and even Google Chat, so you don't miss out on any quote requests.
8. Stripe Payment Gateway for WooCommerce
Offering a safe and secure payment gateway to customers is very important when they are purchasing from your store. Stripe is a popular payment gateway, which offers secured options for online transactions.
Using the Stripe for WooCommerce plugin, you can easily accept payments directly from the customers using Google Pay, Alipay, Apple Pay, Credit cards, Stripe checkout (Stripe hosted checkout page), etc. Stripe is a widely accepted payment option across locations.
9. WooCommerce Product Variations Swatches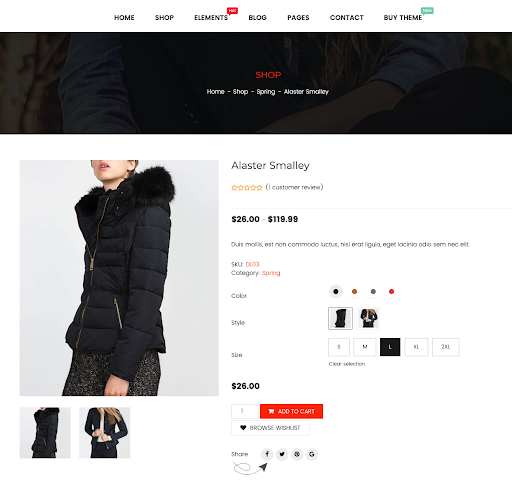 By default, you can see the product variations placed in the dropdown menu, in a WooCommerce store. But again, if a customer is looking for quick browsing options, then you can make use of the WooCommerce Product Variations Swatches to make it much more striking.
Using this, the potential customers won't miss out on any of the colors, styles, or any other variations for the products. The plugin will help you display the variations in a more intuitive and faster alternative compared to the dropdown.
10. MailChimp for WooCommerce
Marketing is essential when it comes to running a successful online store. Email marketing is the key to today's marketing campaigns to help you grow your business.
Using the MailChimp plugin, you can easily connect your online store to the email marketing platform without much effort. That way it becomes easy to create, design, and send email campaigns to the target audience and bring in more sales. This will also increase repeat purchases and help you build a strong relationship with your customers.
Using the MailChimp plugin, you can amplify the effort you put in for your marketing strategies by clearly understanding the ROI of your business marketing efforts.
11. Product Import Export Plugin for WooCommerce
Importing and exporting products to any eCommerce store is indeed a cumbersome process. To make it smooth and trouble-free we can make use of this WooCommerce Import Export Products plugin.
Using the plugin you can migrate product types including simple, grouped, affiliate/external, and make use of powerful export filters. You can export selected products only or export products by their category, tags, products status, etc.
While the free version only supports import/export in CSV format, you can upgrade to the pro version of the Product Import Export Plugin for WooCommerce for XML support and for scheduling import/export using multiple dedicated FTP profiles or URLs.
Moreover, the pro version is compatible with other third-party plugins like WPML, Yoast, Advanced Custom Fields, etc. The plugin makes the migration process quite effortless.
12. WooCommerce One Click Upsell Funnel Pro
WooCommerce One-Click Upsell Funnel Pro helps merchants to make post-purchase upsell offers that users can buy in one click without re-entering payment details.
With the plugin, you can add multiple offers to your upsell funnel. " As a result " if the customer doesn't accept the first offer, you can present him/her with another offer with a more attractive discount.
The plugin allows the merchant to create product-specific offer pages, accept secured payments via widely accepted payment gateways, and ready-to-use offer templates. It also supports some of the top WordPress page builders like Elementor that lets you create custom and responsive upselling pages."
13. HootSuite
Putting social media to the right use is important when it comes to online stores. This way, you can expand brand awareness and spread the business to a wider range of customers.
Running an online store does take up so much time, which leaves no time for online promotion. This is where HootSuite comes in handy. HootSuite is a complete WooCommerce marketing automation plugin, which lets you schedule social media posts over 30 platforms in advance.
Using the same, you can gain more leads and also save you time. The plugin also lets you interact with your team through a dashboard and also view analytics reports in detail.
14. Trust Pulse
Gain the attention of your customers by using the right pop-ups on sales and offers. TrustPulse is one of the best WooCommerce plugins to add any recent sales popups on your online store.
The plugin lets you create interesting and attention-grabbing pop-ups, which are sure to gain the attention of the customers visiting your online store. This way, you can increase the sales of your store.
The plugin leverages the power of social proof to boost sales in your store. The plugin lets you display social proof to the right customers at the right time. You can track any events that are happening live on your website and also customize the designs to suit your branding needs.
15. Smart Coupons for WooCommerce
If you are unfamiliar with coupons, then this is the right time to venture into them. The plugin is the best WooCommerce discount and coupons plugin. Using the Smart Coupons for WooCommerce plugin you can easily generate several coupons and even store credits and right away email them to the customers.
The coupons can be easily added to the WooCommerce store too. The plugin has everything you need to attract customers like coupons, vouchers, credits, product giveaways, promotions, and even offers.
The plugin is quite intuitive and easy to use without any developer assistance, which makes it an ideal choice. You can also create Buy one and Get one offer. Also, there are options to create bulk coupons and also attractive countdown discount sales banners.
16. LiveChat
Fuel your sales by enhancing your customer experience using a chat platform on your WooCommerce store. LiveChat is one such plugin for WooCommerce that lets you add a live chat feature to your WooCommerce store.
The plugin lets the customers seek their queries arising while browsing through your store instantly from any representative available online. The plugin can be customized as per your website theme.
Moreover, the plugin is compatible with Google Analytics, CRMs, other email marketing plugins, etc. The plugin also lets you automate chat responses using chatbots.
17. WooCommerce Customizer
WooCommerce Customizer is a plugin that lets you easily customize the labels, button text, and much more on your WooCommerce store. The plugin lets you make changes without making use of any PHP codes using instant customization options.
The plugin is a free open-source one. It provides a settings page wherein you can add specific customizations and then save them. Using the plugin you can quickly edit those filters from the settings.
18. WooCommerce PDF Invoices, Packing Slips, Delivery Notes, and Shipping Labels
Generate completely professional and fully customizable shipping documents for your WooCommerce store effortlessly using the WooCommerce PDF Invoices and Packing Slips plugin.
Using the plugin you can create a Proforma invoice, print invoices, delivery notes, shipping labels, credit notes, and much more. The plugin offers pre-built templates and also easy customization. The plugin is translation-ready and is ideal for obtaining all kinds of shipping documents.
19. Checkout Address Autofill for WooCommerce
Checkout Address Autofill for the WooCommerce Pro plugin is a useful plugin. It allows users to auto-fill their billing and shipping addresses during checkout.
The plugin uses the Google API key to retrieve location data from Google Maps and fills the data into its appropriate fields. Admin can choose the specific countries from which the results will be shown.
In addition, the admin can choose to save geolocation (latitude and longitude) from the billing and shipping addresses. To see the exact location of the billing and shipping addresses on the Edit Order page. In addition, the plugin supports Field Mapping and Multi-language Translation.
20. ELEX WooCommerce Shipping Calculator, Purchase Shipping Label & Tracking for Customers
This plugin helps you to provide a dedicated platform for your customers to calculate shipping rates and estimated delivery days of popular shipping carriers, print the labels, and get the tracking links. This robust plugin allows customers to calculate the shipping rate based on the distance, weight, and dimensions of their packages.
After choosing a reasonable service based on the cost and estimated delivery date, they can print labels and get the tracking link which will also be sent to the sender and receiver's email addresses. Currently, the plugin supports EasyPost API, which allows you to provide FedEx, UPS, USPS, and Canada Post services to your customers.
21. PluginHive WooCommerce Shipping Services
If you are looking for an end-to-end shipping solution for your WooCommerce store, it can't get any better than the PluginHive WooCommerce Shipping Services.
The plugin integrates with the top shipping carriers like UPS, FedEx, USPS, Stamps, DHL, Australia Post, etc., and provides complete shipping automation. It displays real-time shipping rates from the supported carriers at the WooCommerce cart & checkout page and allows one-click shipping label printing right from your WooCommerce dashboard.
The plugin also serves as an integrated shipment tracking solution with live tracking notifications to the customers via email, as soon as the shipping carrier updated the tracking status. shipment tracking details to your customers via email.
Diversify the functionality of your WooCommerce store
The plugins discussed above will surely enhance your WooCommerce store and help you add necessary features. Get started on your dream store using these excellent plugins and boost your sales in no time.
Was this article helpful?