Getting a WooCommerce product CSV import suite can always come in handy because while maintaining a WooCommerce store, more often than not you need to import products into your store. This happens in a lot of scenarios. Some of them are:
Adding a whole bunch of new products while expanding the store
Updating the details of the existing products
Just plain migration of the site to another
It is not always convenient to add products to the store manually. And you don't have to when you have the best import suite that can help you import your products and different product types with all the ease in the world.
How the Product Import Suite Makes it Easy to Import Products
Product Import Export Plugin for WooCommerce is the best import suite for importing products into a WooCommerce store. The plugin is fully packed with features and gives you a lot of control over which products are imported and how the products are imported.
Product Import Export Plugin takes a CSV/XML file as input and imports all the products in the file to the WooCommrce store. After you have prepared the file, importing the products from the file is piece of cake. For a smooth import, all you need to do is to make sure that the headers of the columns in the CSV file are correctly mapped to the right WooCommerce product data fields.
1. Import CSV from different locations – Whether your CSV/XML file is located in a remote FTP server, or if you need to upload it from a URL or your local computer the plugin offers you those functionalities.
2. Choose either CSV or XML for import – You can either use CSV or XML files for importing products into your store.
2. Import different product types – If your CSV contains different product types including simple, variable, grouped, subscription, external/affiliate, bundled products, etc., you can easily import them to your store along with their related data.
3. Import custom fields/metadata – If the CSV contains custom fields created by different third-party plugins, you can easily import them to your store.
4. Import product reviews – Along with products you can import their reviews to the WooCommerce store and associate them with the correct products. You can import the reviews with verified user tags, ratings, author name, date, etc. You can also edit the contents of the reviews if you wish to.
5. Automated import of products – Using this plugin you can set up a scheduled import of the products from a remote server, which is also known as Cron Job. You can also export the products to a location on the remote server at regular intervals using Cron Job.
6. Update existing products – You can easily update products with any available spreadsheet program or using the evaluation fields section available within the plugin.
7. WPML Support – The plugin supports French, German, Danish, Arabic right out of the box.
8. Plugin compatibility – The plugin is tested and verified to be compatible with plugins that are popular and most commonly used by WooCommerce stores.
How the Product Import Suite Makes it Easy to Export Products
Product Import Export Plugin for WooCommerce also helps you to export the products and reviews into a CSV/XML file. The plugin allows you to keep a record of all your products and their related data by exporting them into a CSV file.
With this plugin, to export the products all you need to do is configure the settings of the plugin according to your needs and then export. It will download the CSV file to your computer or you can export the files on a regular basis to the remote server using Cron Job.
Export all the product types – You can easily export products belonging to all the different product types (simple, variable, grouped, external/affiliate, subscription, bundled, etc) in your WooCommerce store to a CSV/XML file.
Export products of your choice – You can export products selectively based on certain criteria. For example, you can export products that belong to a certain category, or you can export the products that belong to a certain product type or you can have a partial export of products.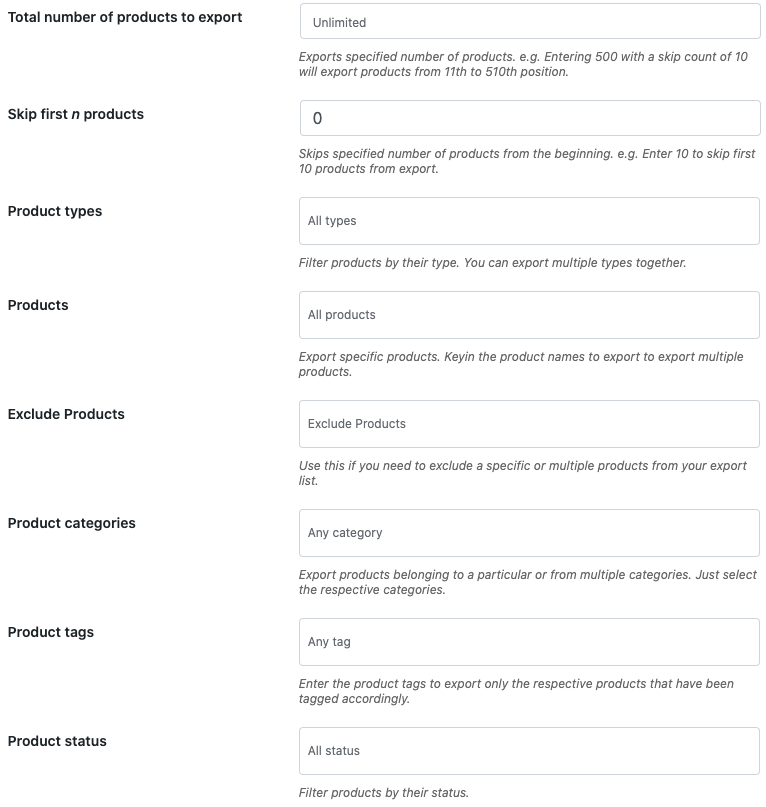 Export product reviews – You can selectively export product reviews based on a variety of criteria.
Please refer to the user guide of the plugin and learn to set up the plugin to every detail for the import and export of the products to and from your WooCommerce store.
Conclusion
Import, export, or update are frequent requirements that need to be handled by a store to ensure its smooth functioning and better customer experience. Product Import Export for WooCommerce is an all-in-one tool to manage these tasks efficiently and in a less time-consuming way. So get the plugin today and ensure that you have the right help with your store's product management.
Was this article helpful?