This article has covered everything you need to know about the next order coupons like how it works, how you can enable it in your store and more. We will be using the WebToffee WooCommerce Smart Coupons plugin to do this.
Retaining your existing customer base is more important than you think. You can secure a huge number of sales by doing so. But, if you are finding it hard to keep your customers returning to your store, here is something you can try – offering next-order coupons.
These coupons persuade your existing customers to make more purchases from your store!
How Do Next Order Coupons Work?
Next order coupons are coupons that solely get applied to the cart of a customer who has made a previous purchase from the store. These advanced-level coupons are a powerful way to ensure customer retention in your WooCommerce store.
You can get your customers notified about the coupon by sending it along with the order completion email of their previous purchase from your store. In addition to emails, you can use any other communication method to convey the offer to your customers and make them redeem the coupon as fast as possible.
Frequently Asked Questions
Why Should I Use WooCommerce Next Order Coupons?
Next order coupons ensure that every customer who has made at least a single purchase from your store is best targeted for encouraging more purchases from your store. Next-order coupons improve the purchase speed of your customers.
How can I create coupons for returning customers in WooCommerce?
Coupons for returning customers in WooCommerce can be offered based on the number of orders previously placed by the customer. However, you will need a WooCommerce advanced coupon plugin to set up the next order coupon or coupon for returning customers.
Why should I create coupons for returning customers?
Coupons exclusive for returning customers help ensure customer retention. The nth order purchase coupon feature enables you to create coupons based on their past purchase history.
Next Order Coupons In WooCommerce
If you want to try this coupon in your WooCommerce store, here is a smart solution to help you with it.
Smart Coupons for WooCommerce is a great plugin with a simple and easy user interface to help you configure these coupons and do much more.
Once you install and activate the plugin on your WooCommerce store, you can follow the steps below to enable the next order coupons.
Configuring Next Order Coupons in Your Store
The plugin lets you configure next-order coupons (or coupons for returning customers) in your WooCommerce store by following two simple steps. Here they are.
Name the coupon and choose a discount type and amount

Go to Marketing > Coupons.
Provide a coupon name, description (optional), discount type, and coupon amount.

You can add additional configuration to the coupon as you wish.

Configuration of the next order coupon

Navigate to the Purchase History tab.

Number of orders – To enable the next order coupon, the customer must have made at least one purchase. Thus choose the number of orders equal to or greater than one from the drop-down.

Order status – Select the order status as completed from the drop-down. Only the prior orders that have attained this selected order status will be counted as eligible orders. Here, only the past orders with the 'Completed order' status would be used to validate the coupon.

Total amount – You may leave this field empty as this coupon doesn't consider the order amount. But if you want to create a coupon like this, 'Only applicable for users who have previously purchased for at least $100' this is the option to make use of.

Exclude customers already awarded – You need to enable this checkbox to restrict the coupon from applying to customers who have already availed of this coupon.


Save the changes.

Now Publish the coupon.
Now your store is all set to offer next-order coupons to your customers.
Simply availing next order coupons won't help your store to take your customers back to your store. As I said earlier, they should be tempting enough to bring them back.
How To Make Next-Order Coupons Irresistible
To increase the redeemability of next-order coupons, you can try the following techniques in your store with the help of the other excellent features offered by this plugin.
1) Try Limited Period Offers
You can configure next-order coupons having a limited time period. Once past the expiry date, the coupons won't apply. This will definitely push your customers to complete the purchase as soon as possible.
You can create limited-period offers in your store by giving a coupon start date and expiry date in the general tab under the coupon data section.
2) Enable QR Code For Next Order Coupons
Creating next-order coupons in the form of QR codes can give you a great conversion rate. This way, your customers will not have to remember or redeem the coupon code by visiting your store again. By simply scanning the QR code, the next order coupon will be applied, and they can make the checkout easily in no time.
To enable QR code coupons, you need to add another plugin to your store – URL Coupons for WooCommerce. It is an add-on for Smart Coupon Plugin for WooCommerce and is thus compatible.
Here are the steps you should be following in order to enable the QR code for the WooCommerce next order coupons.
Step 1: Create A New Coupon
Step 2: Choose A Discount Type, Discount Amount, And More
You can make use of the other features as you wish to create an advanced next order coupon.
Step 3: Configure The Next Order Coupon
Step 4: Set Up a QR Code For The Coupon
Once you Publish the coupon, you will be able to download the QR code and add it to the email for your customers. They will be able to scan it promptly and redeem the coupon.
To learn more about enabling QR code coupons in your WooCommerce store.
3) Offer Free Shipping With The Coupon
At times a double deal can be a real people puller. Having recently purchased a product from the same store, customers will hesitate to make another purchase and pay for the shipping charge again. You can avoid this situation by offering free shipping along with the coupon.
You can enable a free shipping offer for your coupons by selecting the free shipping checkbox in the general coupon data.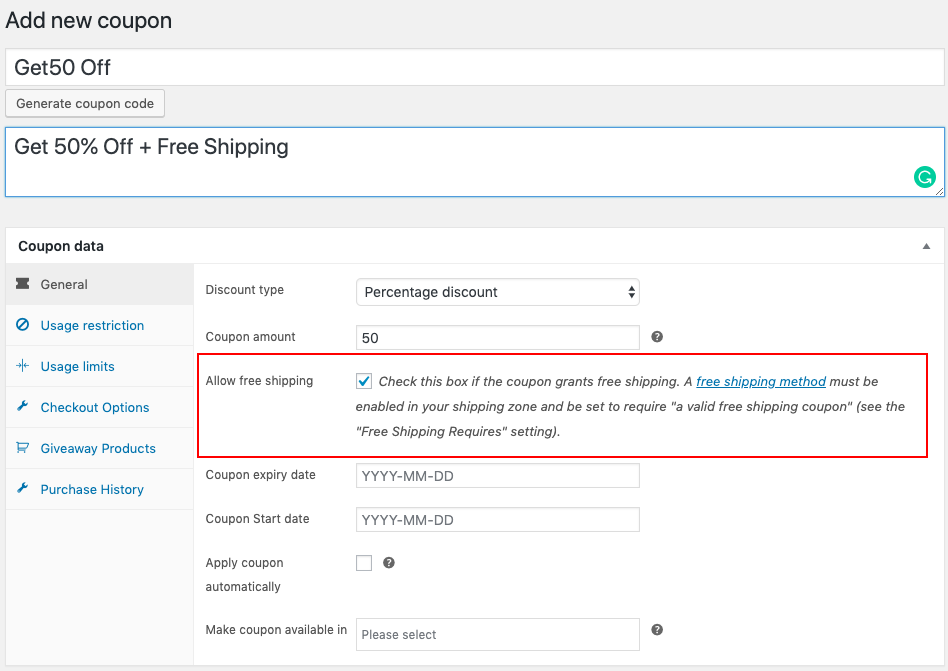 Why Are Returning Customers Important For Your Store?
Here are some reasons why you should give importance to focusing on return customers for growing your business.
Return customers are easy targets for sales
If you are running a store, you must have realized how easy it is to sell to your return customers rather than the new ones. Thus you need to revise your marketing strategy that gives importance to return customers.
They promote your business well
You get your business promoted well by returning customers. Their reviews, word-of-mouth promotion, etc., can improve your brand value to greater heights.
Return customers spend more money on your store
Having purchased previously from your store, returning customers would be better comfortable in spending more money in your store compared to your new customers. The trust they have built up from their previous purchases makes them go for pricey deals.
Getting new customers costs you more
To find new customers for your store, you will have to spend a lot of money and effort on advertisements, promotions, etc., which is unnecessary for returning customers.
Finding the right strategy and carrying it out best is essential in taking your WooCommerce store to greater heights. Next order coupon is one such strategy that, if applied effectively, can bring huge benefits to your store.
I hope you found this article helpful in learning about next-order coupons, their benefits, how to apply them in your store, and more. Let us know your thoughts about WooCommerce's next order coupons in the comments below.
Was this article helpful?