Smart coupon for WooCommerce generates coupon codes seamlessly in different ways. The plugin creates shortcodes for all the coupons of the store. You can make use of the shortcodes to display coupons for promotions or various other purposes.
Any blog visitor irrespective of their user role (guest users also) will be able to view the available coupons. Use shortcodes primarily in cases where you need to display all available coupons for your store in blogs or posts.
Getting started
First of all, install and activate the plugin, a new menu Smart coupon will appear in your WordPress dashboard.
Head on to Smart coupon > Coupons.
Display coupons using shortcodes
Let us see how to display coupons in a pre-defined format on a blog post.
Select an existing coupon or create a new coupon to copy its shortcode. For example, let us consider the coupon with a coupon code eoss50.
The shortcode corresponding to the coupon eoss50 is [wt-smart-coupon id=2664].
Now, we can use this shortcode in our blog to display the coupon. For an illustration purpose, I have created a sample blog as shown below:
Publish or preview the post to get its front end view as shown below:
Likewise, you can use shortcodes to display coupons on posts or pages for promotions or for any other purposes if any.
Note:
The plugin uses the default coupon layout from the coupon style settings for displaying coupons.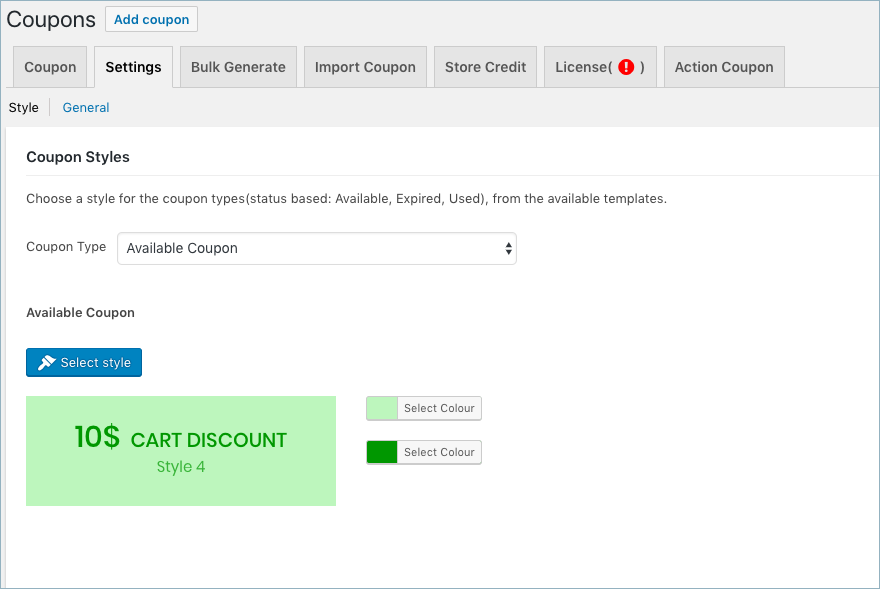 You can modify or customize the coupon layout in your desired manner from the coupon styling section.
Additionally, you can link shortcodes with a coupon URL that applies automatically when redirected.
Was this article helpful?