How to have a stripe dashboard within WordPress
With the Stripe Payment Checkout plugin, you will be able to have a detailed stripe dashboard within WordPress itself. You can install and activate WebToffee's Stripe Payment Gateway > Stripe Overview.
Stripe Overview
In the Stripe Overview page, you can capture or refund payments manually. You can also view a graphical representation of the overview of the Stripe payment for a given period of time. You can view all the order/transaction details as well. It also allows full or partial payment capture or refund.
On the top left corner of the overview page, you can see the total amount Captured, Uncaptured and Refunded for a given period of time done using the Stripe payment gateway. A graphical representation of the same is illustrated in the top right section.
The below section contains Order Details and Transaction Details.
Order Details
This tab consists of all the orders purchased using the Stripe Payment Gateway plugin for WooCommerce.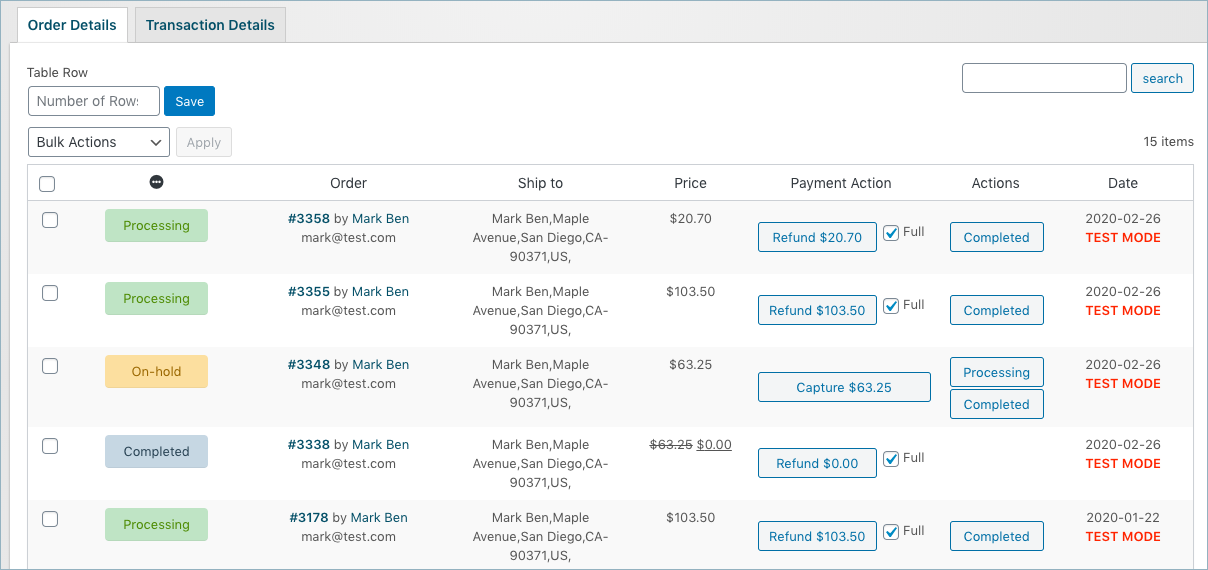 You can refund full or partial amount. You can change the action of the order status (Process, On-Hold & Completed) as well.
Also, the plugin provides an option called Table Row that restricts the order view for the given number. You can also search for an order in the given search option.
Transaction Details
This tab displays all the transactions made using the Stripe Payment Gateway plugin for WooCommerce.
The order and transaction details (under Order Notes) can also be viewed on the Edit Order page.
Go to Dashboard > WooCommerce > Orders, and select your desired order.
A sample order page is shown below.