The GDPR Law requires companies and organizations serving the citizens of EU to be transparent about the data that they are collecting from their users. This also includes the cookies that the website uses. The website should let the users know what cookies they are using and get the consent from them to continue using them.
This requires Identifying the cookies that your website installs in the browser. There are different ways with which you can do identify the cookies. 
Browser Extension
One way to do so is installing a browser extension. There are browser extensions that can help you analyze and list the cookies that a website installs on a computer. For example for Google Chrome, the extension Cookie Inspector list all the cookies that the website uses on the developer console with a new tab for cookies.
Development Console
The second method is by Development console: The cookies that a website uses can be obtained by the development console of the web browser. This can be different for different browsers.
For Google Chrome, there are two ways to get to the developer console. In the first method, right click on the webpage and click on inspect. Secondly, from the top end of the browser go to the More tools > Developer tools. This will open up the developer console in Google Chrome. 
From the console, go the Allpication tab. Here you can see the cookies installed by the webpage on the browser by different domains.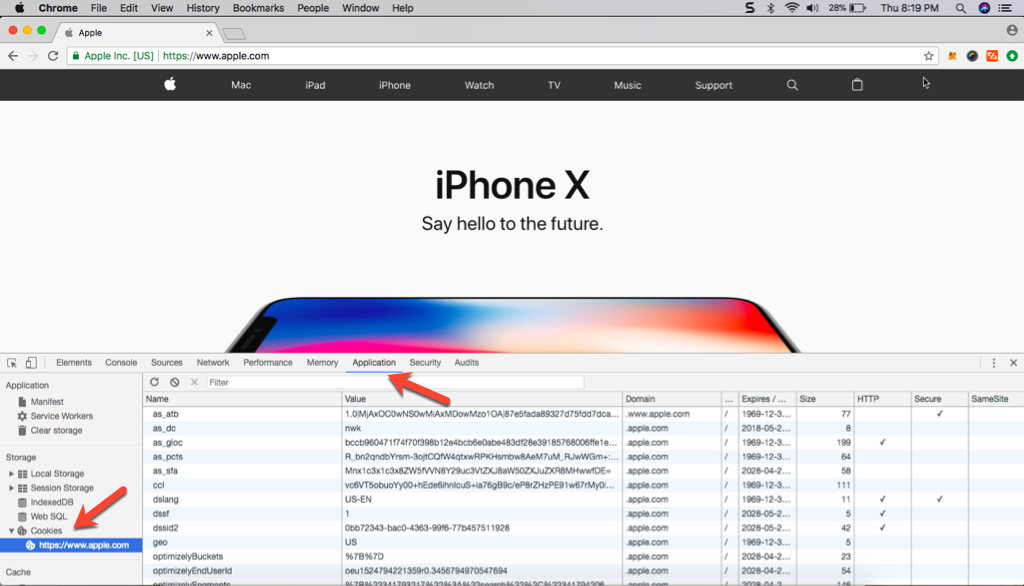 Alternatively, you can also find all the cookies that the websites install on the browser, from the menu on the top right corner of the browser, go to Settings > Advanced settings > Content settings. From the Content settings menu, go to Cookies and then click on See all cookies and site data. This will list you all the cookies that the website uses.
For Mozilla Firefox, from the website you want to analyze, click on the toolbar, go to Tools > Web Developer > Web Console.  Or right-click on the webpage and go to Inspect Element. This will open the developer console for Mozilla Firefox.
Now, from the console, click on the storage tab at the top right of the page. Expand the cookie drop-down and it will show you the cookies used on the website.
For Safari, Right click on the web page, then go to Inspect Element. This will open the developer console. From the console go to the Storage tab, and expand the Cookies drop-down to see the list of the cookies that the website uses.
When identifying the cookies used on your website, it's not just enough to just check the homepage of the website. Different pages of the website might be using different cookies that are set up different plugins that run only on specific pages. Check the cookies used on all the pages on your website, not just the homepage.