Are you looking for the easiest method to import users to WordPress? Whether you need to import 10 or thousands of users to WordPress, you can do it in just 4 steps.
This article will clearly explain to you how it's done.
Why do you import users to WordPress
Following are some of the situations that will require you to import users to your WordPress site.
When you are migrating from your old site to a new site
When you need to update user data
To restore user data from a backup
User data includes user passwords as well. When you are able to migrate the passwords as it is, you will be able to ensure your users with a seamless login on your new site as well.
The rest of the article helps you learn how you can achieve that with the WordPress user import-export plugin.
Importing users to WordPress step-by-step
Once you install and activate the plugin on your website to which you are importing the WordPress users you can prepare a CSV file that includes all the users and user data.
To prepare a CSV file you can either use a spreadsheet program like Microsoft Excel or Google Sheets and save the file with the .csv extension. The CSV import file must be in UTF-8 format. For more information about UTF-8 encoding, read How to save CSV / Excel File as UTF-8 Encoded?
Or, if the initial site is a WordPress site, you can export the user data to a CSV file using this plugin as well.
Step 1 : Choose the post type as 'User/Customer'
Step 2 : Choose the import method and upload your CSV containing user data
You need to choose from three import methods – quick, pre-saved template, and advanced import. If you are using the plugin for the first time I recommend the advanced import method.
Now you can proceed to upload the CSV containing user data from your computer.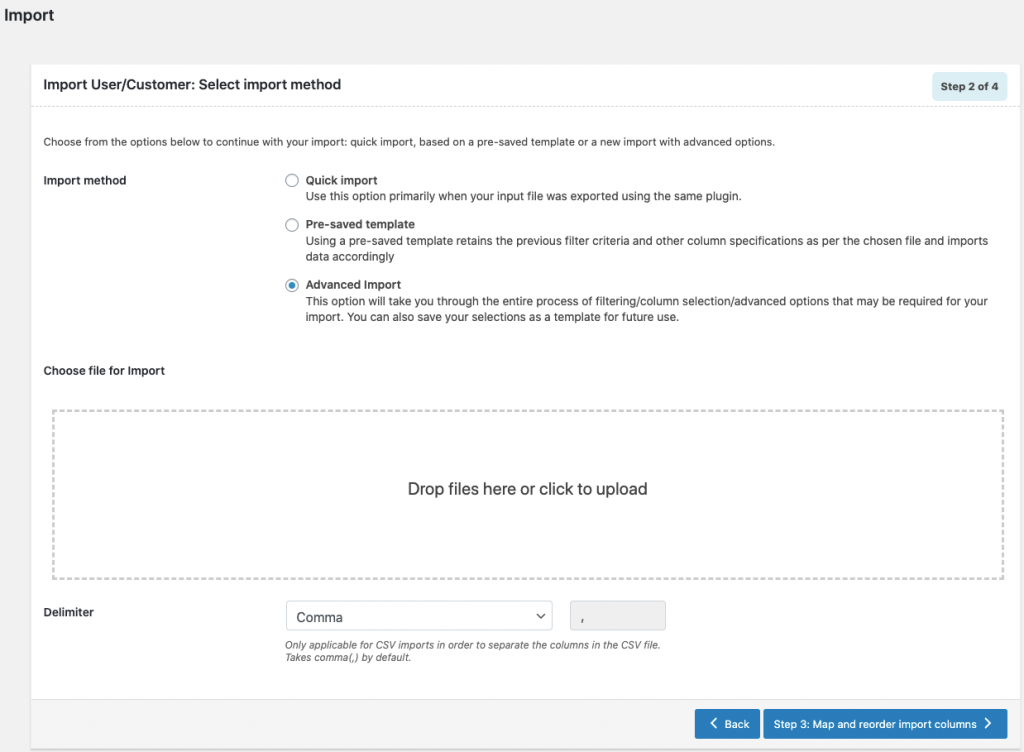 Step 3 : Mapping
Mapping makes sure that the right data is imported into the right user fields in WooCommerce. Here you have to match the column headers of the CSV to the WooCommerce user data fields. This is especially useful when you are migrating from a different eCommerce platform like Magento, Shopify, etc.
Step 4: Retain user passwords
Here if you choose 'yes' you will be able to retain user passwords.
Click the 'Import' button and the import is finished!
So this way you can easily import the users into your WordPress site. When the import is being done to update the existing products in the WordPress website, do the following.
Bulk update existing WordPress users during import
The plugin also helps you to update the existing users. This way, you can update users in WordPress in bulk. The user data can easily be changed using a CSV and the next thing you need to do is merge the changes with your site's existing user data.
For this, you just have to choose Update for the first entry if the user exists in the store. Now when you click the import button all existing user data on your site will be replaced by the data within the CSV.
How to bulk import users into WordPress
This WordPress user import plugin can import either one or thousands of users in the same steps as shown above.
To get more out of the plugin such as automated scheduled import/export (FTP/SFTP/URL), custom fields import/export (metadata), XML support in addition to CSV, etc., you can upgrade to the User/customer import export plugin premium version.
Conclusion
Users are an important component of any WordPress site. Given the fact that they contain sensitive data, you need to have the best solution to migrate them to and from your site. Hope the above solution meets all your needs while importing users to WordPress.
Was this article helpful?