Affirm is one of the leading companies offering buy now, pay later (point-of-sale installment loans) to consumers.
Affirm's mission is to help consumers afford what they want to buy without creating unmanageable debt.
Unlike other BNPL (buy now, pay later)companies, Affirm allows you to choose your payment option.
Affirm generally conducts a soft pull of applicants' credit histories, which doesn't affect their scores.
Depending on your credit and eligibility, your APR (Annual percentage rate) on an Affirm loan can end up being 0%, or 10% to 30%.
Affirm supports payment in Dollars.
Stripe accounts in the US can accept Affirm payments with USD settlement.
United States of America
Canada
Getting started
The Affirm settings page is shown below.
Affirm Settings
Affirm: Enable to accept Affirm payments.
Title: Enter a custom title for Affirm payment. This title will be visible on the checkout page.
Description: Enter a custom description for Affirm payment. This description will be visible on the checkout page.
Order Button Text: Enter a custom text for the Affirm payment button.
The below image shows an Affirm option on the checkout page.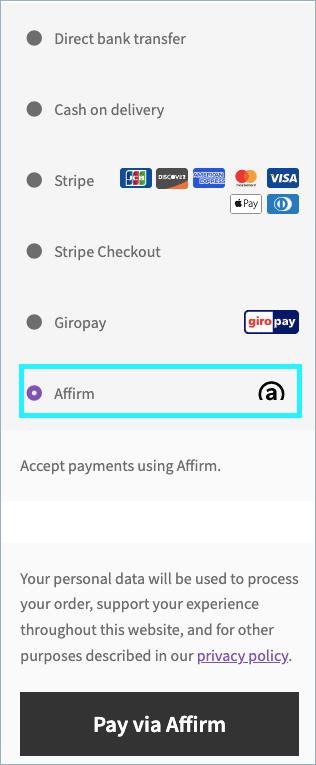 Affirm Payment Workflow
The customer selects Affirm at checkout on the online store.
The customers are redirected to the Affirm model or pop-up, where they enter their phone number to receive a text with a pin to create or sign in to their account.
The customer enters their social security number (SSN) to check for loan eligibility and moves to the confirmation screen.
The customer then receives the loan terms and selects the payment plans.
The customer then completes their purchase.
The customer receives a confirmation of their Affirm purchase. Receives an order confirmation screen for the order.
Was this article helpful?