The best way to import the users and their metadata to a WordPress website is to find the best plugin that can do it for you with minimum efforts. The WordPress Users & WooCommerce Customers Import Export Plugin helps you to upload/import WordPress users into your WordPress website in bulk.
The plugin takes a CSV/XML file, and imports data in the same format to the website effortlessly. Depending on the location of the CSV file, you can import the users with different methods.
Let us have a look into how this plugin imports WordPress Users:
Note: Keep the CSV/XML file ready that includes all the users and user details that you want to import. Now, keep in mind that the CSV file should be UTF-8 encoded for proper import.
Navigate to WebToffee Import Export(Pro) > Import.
Select the post type as" User/Customer" and click on Step2.
Choose your import method and upload the file.
Importing Methods
Choose from the below options to continue with your import:
Quick import
Based on a pre-saved template
Advanced import
Let us have a look at each of these import methods:

Quick Import
imports the basic/standard fields of the respective post type.  
primarily used when your input file was exported using the same plugin
One can import file from:

Local
URL
FTP
From pre-saved template
This method retains the previous filter criteria and other column specifications as per the chosen file and imports data accordingly.
By selecting this option, one can choose a previously saved template from the Import template drop-down.
Note: The template will be listed in the drop down only if you have saved it in previous imports, if you go through the Advanced import, at Step 4 you will get an option to save the template. Once you save that, next time when you want to import a pre-saved template, it will be populated within the drop down.
Click the Import button to complete the action or proceed to Step3 to map and reorder columns.
Advanced Import
This option will take you through a detailed process of filtering/column selection/advanced options that may be required for your import.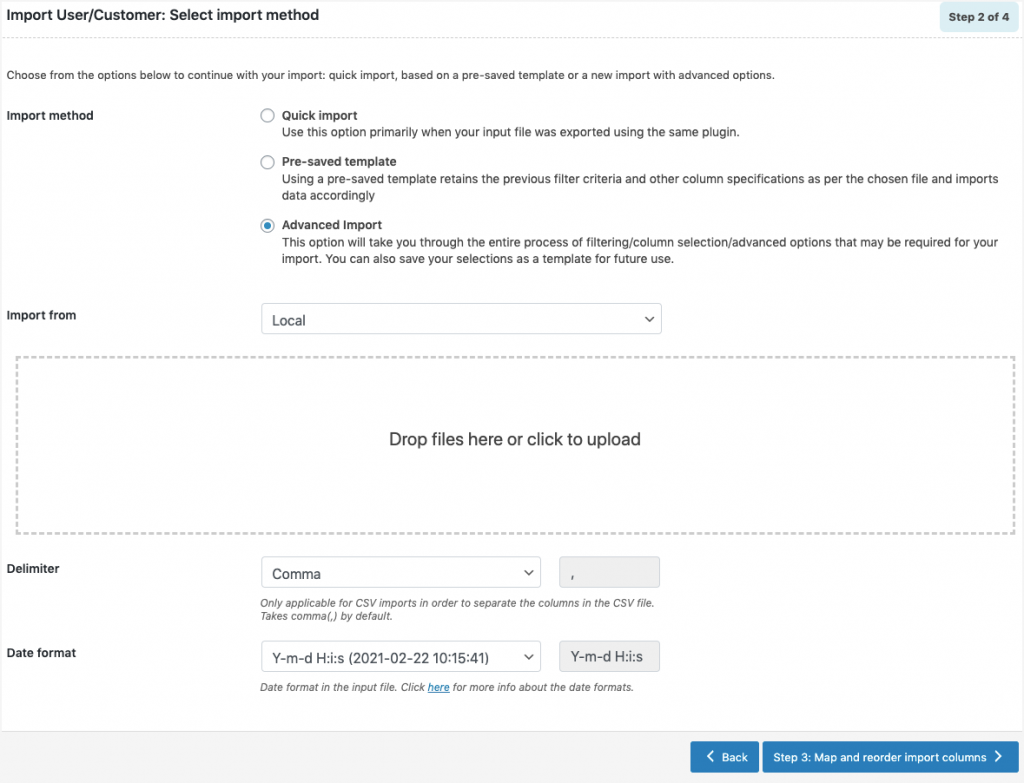 Note: You can also save this file as a template for future use.
4. Click on Step3 and follow the steps in How to import/export user data to get your import done.
To know more about importing of users in WordPress using WordPress Users and WooCommerce Customers Import Export plugin, read the plugin documentation.
Was this article helpful?