Easy to Setup Stripe Plugin for WooCommerce
Accept Debit and Credit Cards via Stripe, Integrate with Apple Pay, Alipay, Google Pay, SEPA payments, Klarna, and Stripe Checkout for a Faster and Secure Checkout
Setup, Test & Go Live with WooCommerce Stripe Integration in Minutes
Our WooCommerce Stripe Payment Gateway plugin is used by 9,000+ stores across the globe.
Accept Stripe Credit and Debit Cards
Easy and fast checkout using credit cards, debit cards, etc. ensuring hassle-free checkout for the users and ensure a purchase to reduce cart abandonment
Multiple payment methods
Supports multiple payment methodologies like Apple Pay, Google Pay, Alipay, SEPA pay, WeChat, AfterPay, Sofort, iDEAL and Stripe checkout.
SCA Ready, 3D Secure
Follows the Strong Customer Authentication (SCA) rules and employs 3D Secure for card payments so that you don't lose out on any of your European customers
Works with Subscription Plugins
Ensures smooth functioning with subscription plugins to support automatic (and manual) recurring payments for subscription-based products
Stripe Dashboard Inside WordPress
See the consolidated data of all the transactions done using Stripe payment on your dashboard for easy monitoring and tracking
Log All Stripe Transactions
Allow saving each transaction information into the log file. You can see the file path and the size of the log file which will help in tracking disputes
Switch Between Live and Test Modes
Ability to switch between test and live mode to validate stripe transactions enabling you to provide the best user experience
Quick Installation and Setup
Easily to install and set up in a few steps. Detailed documentation of the plugin guides you to get the best of the plugin
WPML Compatible
Support multilingual websites with translations and is tested OK for WPML compatibility.
Testimonials
17 customer ratings
Directly Accept Payments
This WooCommerce Stripe Payment Gateway Plugin lets you accept payments directly on your website via the Stripe payment gateway including using local payment methods. This means a smoother payment experience for your users as they never have to leave your website for making payments.
Following are the payment methods supported – credit/debit cards, Apple Pay, AliPay, Stripe Checkout, Google Pay, SEPA, WeChat, AfterPay (ClearPay), Sofort, and iDEAL.
Credit and Debit Cards
With Stripe for WooCommerce, you can accept MasterCard, Visa, American Express, Discover, JCB, and Diners Club cards directly on your store.
Apple Pay
This WooCommerce Stripe plugin is the easiest way to support Apple Pay in your WooCommerce store. The plugin enables frictionless credit card payments and eliminates the need to manually type card or shipping details. Your customers authorize payments with Touch ID.
You will be able to enable shipping flat rates with Apple Pay. This flat rate will be charged to the customer while checking out. Also, Apple Pay is integrated into the cart and checkout pages.
Show more
Ensure Recurring Revenue with Subscriptions
Ensure uninterrupted and trouble-free recurring payments for your subscription products. Supports manual and automatic recurring payments with various payment methods including credit cards, debit cards, Apple Pay, and Google Pay (Payment Request Button).
The plugin supports subscriptions created by both the WooCommerce Subscription plugin and the Subscription for Woocommerce plugin by WebToffee.
Prevent Fraud with Fast and Secure Payments
Ensure Strong Customer Authentication (SCA) using secure two-way authentication for your WooCommerce website. Detects and prevents disputes with the help of 3D secure payment methods.
The plugin also supports faster and easier mobile and desktop checkout options.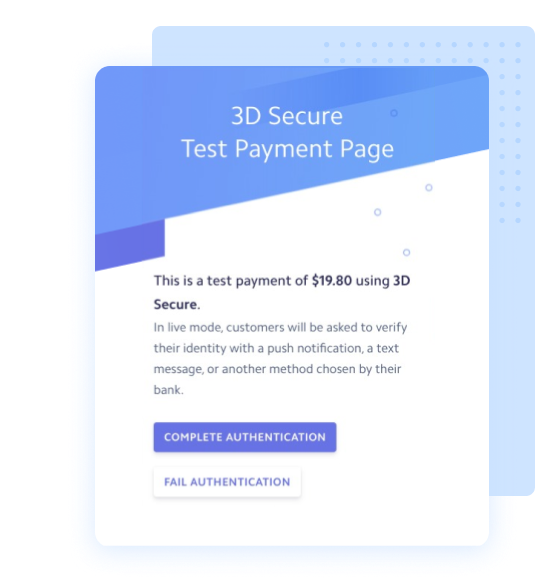 Easily Monitor and Manage Transactions
Easily capture authorizations and process full/partial refunds from Stripe dashboard. The Stripe dashboard displays consolidated data of all your transactions.
Do one-click Payment Actions and review payments by dedicated Stripe Transaction Overview page. Along with the order number, the product name is also displayed on the Stripe overview page/dashboard.
Stripe overview also gives a deep insight into the count of transactions captured, uncaptured, or refunded. Detailed transaction details and order details can also be examined.
Customizations and Advanced Settings
Customize each user-facing element like the logo, payment method name, description, button text, and more by various settings options.
The transaction receipt of every successful transaction will be emailed to your customer with payment details.
Get provision to choose preferred cards from which the payment can be accepted. Transactions will be limited to the selected cards and others will be denied from usage.
Ability to switch between test and live mode to validate stripe transactions.
Allow saving each transaction information into the log file. You can see the file path and the size of the log file which will help in tracking disputes.
Get Multilingual Support and WPML Compatibility
The plugin supports French and German (Deutschland) language supported out of the box. In addition to that, the Stripe Payment Gateway for WooCommerce is fully compatible with the popular multilingual plugin, WPML.
Pricing
Single Site
1 site
License for 1 site
1 year of plugin updates
1 year of ticketed support
Upto 5 Sites
5 sites
License for 5 sites
1 year of plugin updates
1 year of ticketed support
Upto 25 Sites
25 sites
License for 25 sites
1 year of plugin updates
1 year of ticketed support
Frequently Asked Questions
Do you have a question about the 'WooCommerce Stripe Payment Gateway' plugin? See the list below for our most frequently asked questions. If your question is not listed here, then please visit the support page.
Is buying a plugin a one-time charge?
The plugin license comes as a 12 months subscription. The license is valid till one year and will renew after that automatically, unless cancelled. You can use the plugin for lifetime, but support and updates of the plugins will be available as long as the license is active.
How do you provide support?
We have extensive documentation on our website (tutorials, knowledgebase, FAQs, and sample code snippets). If you need any assistance you can create a new
Support
ticket and our team will respond as quickly as possible. We usually respond within 1-2 business days. Product support via phone, Facebook, or Twitter is unavailable at this time.
How often are the plugins updated?
We update our plugins frequently. This could be when we introduce a feature or fix a bug. View the changelog on the product page to check the latest version.
Do you offer refunds?
We offer a 30-day money-back guarantee whatever is the reason. If you find the product does not work the way you need, we can issue a refund.
How do I download the plugin files after the purchase?
Once your order is complete, you should receive an email notification with a download link. You may also go to your account page and click the Downloads tab to find all available products.
Do your plugins work with WordPress multisite?
Yes, they are compatible, however, you will need a license for every site. Eg: If you have subsites as,www.domaninname/site1 www.domaninname/site2www.domaninname/site3You will have to activate the license on every subsite ( site1, site2, site3). Our system recognizes the name of the URL www.domaninname/site1 is different from www.domaninname/site2 meaning that you will need to buy a license for every subsite in order to activate them on all sites.
Can I use a single site license for staging and live site?
Since the license is valid per site, you can only activate it on one site at a time. During testing, you may activate in the staging site and once you decide to go live, you can deactivate from staging and activate in the live site.