The blog post offers a tutorial on how to create free shipping coupons in WooCommerce with the default WooCommerce plugin settings. The blog also covers creating shipping method-based discounts using coupons with the "Smart Coupons" plugin.
Shipping is an essential component of an eCommerce business with the potential to create an impact on your sales. Brands usually start their business with a simple approach to shipping, such as free shipping, fast delivery, etc.
But a successful brand always uses strategic shipping options. Offering shipping coupons to help with reducing cart abandonment is one among them.
WooCommerce Default Shipping Methods
WooCommerce supports three shipping methods which are
Flat rate: Charge a fixed rate for shipping.
Free shipping: Offer free shipping to customers with coupons and minimum spends.
Local pickup: Allow customers to pick up orders themselves. By default, the store base taxes will apply regardless of customer address.
Inbuilt features of WooCommerce can even provide free shipping coupons. But WooCommerce alone cannot offer attractive and advanced shipping deals. For example,
15% discount for everyone whose shipping address in the United States
25% discount on the cart for flat rate shipping everywhere in Switzerland
Get a 10% discount with PayPal for shipping to Spain
WooCommerce alone cannot do this, but with the extension plugin Smart Coupons for WooCommerce you can easily create these types of shipping coupons for your customers.
How to create a free shipping coupon?
You can create a free shipping coupon in WooCommerce with the default features of WooCommerce and without any external tool.
Users applying this coupon at checkout will be able to avail free shipping for that particular order.
To set this up,
Create a free shipping coupon.

‣ Go to Marketing > Coupons in your WordPress admin console. 

‣ Click on Add coupon and provide a coupon code. 

‣ In the Coupon data panel General tab, enable the checkbox Allow free shipping. 

‣ Click on Publish to publish the coupon.

Configure free shipping with a coupon.

Free shipping can be enabled for specific shipping zones. Here we will be taking the US as an example, 

‣ Go to WooCommerce > Settings > Shipping > Shipping zones. 

‣ Click on Edit corresponding to the Zone US. Use the Add shipping zone button to add a zone of your choice. 

‣ By default, Free shipping would be selected under Shipping methods. Click on Edit corresponding to it. 

‣ Now configure Free shipping requires A valid free shipping coupon. 

‣ Click on Save changes. 

‣ Save the changes to the shipping zone too.
Thats it! Customers who use a US shipping address can apply this coupon at the checkout to access free shipping.
Why Should You Offer Cart Discounts For Specific Shipping Methods?
Imagine your WooCommerce store's sales are awfully low in a specific country, say "the United States" due to tight competition. How would you tackle this situation? One effective way to improve the situation is by giving special discounts and incentives exclusively to customers from the United States.
But unfortunately, the default WooCommerce system doesn't allow you to restrict applying discounts to one particular country. Not even a basic coupon could work, as every coupon you create will be applied to all countries when the specific coupon conditions are met.
So to set it up, you will need an advanced tool that helps you offer this feature for coupons.
How To Apply Discount In WooCommerce Based On Shipping Address?
In addition to free shipping, you may also charge users for shipments with Flat rate and Local pickup methods. In such situations, you can offer discounts on the cart to pacify your customers.
This can help you retain the customers who might otherwise leave you for shipment charges.
To set this up, you will need an external plugin. The WebToffee WooCommerce Smart Coupons is a free plugin perfect for this scenario. Let's see how it can be configured.
Install And Activate The Plugin
Login as the WordPress site admin and go to Plugins > Add New.
Search for the plugin 'Smart Coupons for WooCommerce' and identify the plugin.
Install and then activate it.
Now, we'll explain how to create shipping coupons using Smart Coupons for WooCommerce with the previously-mentioned examples.
15% Off For Everyone In The US
Go to Smart Coupons > Add coupon and provide a coupon code.
Choose the Discount type as Percentage discount and the Coupon amount as 15.
Enable the checkbox Apply coupon automatically to automate the application.
Select where you want the coupons to be displayed in the store in the Display coupon in field.
Go to the Checkout options tab and choose billing or shipping address under the field Restrict by country. In this example, choose shipping address.
Select the country as United States (US) under the field Country.
Publish the coupon.
Here is a screenshot of the cart when a customer with the United States as the shipping address purchases from your store.
Get 25% Discount Everywhere In Switzerland For Flat Rate Shipping
Step 1: Create A Coupon
Go to

Marketing

>

Coupons

from your dashboard.

From the Coupons window, click on the

Add Coupon

button.

Enter the

Coupon code

and add an optional

Description

of what the code does.
Example: Coupon code – 25FRSWITZ
Description – Get a 25% discount everywhere in Switzerland for flat rate shipping
Step 2: General Settings Configuration
From the

General panel, select your preferred discount type (Percentage discount).
Enter a coupon amount (25).
If you want to display the coupon in the customer's cart, select cart from the dropdown Display coupon in (optional).
Step 3: Setup Checkout Options
Navigate to the

Checkout options

tab.

Select

Shipping methods from the list (Flat rate).
Select Shipping Address under the option Restrict by country.
Select the Country from the list. Here we selected Switzerland as per the example above
Step 4: Set Up Flat Rate Settings In The Country
Navigate to WooCommerce > Settings > Shipping > Shipping zones.
Click on Add shipping zone.
Provide a Zone name and select the Zone regions. Here let's select Switzerland.
Click on Add shipping method and choose Flat rate.
Now proceed to edit the Flat rate method, and a new pop-up window will appear.
Select the tax status and specify how to calculate the flat rate cost. Here we have chosen to charge the customers $10 for every item in the cart.
Now save the changes.
We have done all the essential configurations to create a shipping coupon – Get 25% discount Everywhere in Switzerland for flat-rate shipping. Publish the coupon code to the customers. If you have made the coupon available in the cart, it will display on the cart page as illustrated below.
So when the customer specifies the shipping address as Switzerland, the flat rate shipping will be automatically associated with the cart. Per our configuration, $20 ($10 for each item) will be added as the shipping cost.
Customers can enter the coupon code displayed in the cart in the APPLY COUPON field to associate the shipping discount. When done, 25% of the cart subtotal will be deducted from the payable.
Get 10% Discount With PayPal For Shipping To Spain
To generate a coupon to offer discounts like – Get a 10% discount with PayPal for shipping to Spain,
After adding the Coupon code and Description according to your requirement, select the discount type as Percentage discount and enter a Coupon amount as 10.
For a better understanding, see the below screenshot.
Now navigate to the Checkout options panel, select the Payment method as PayPal, and select the shipping Country as Spain.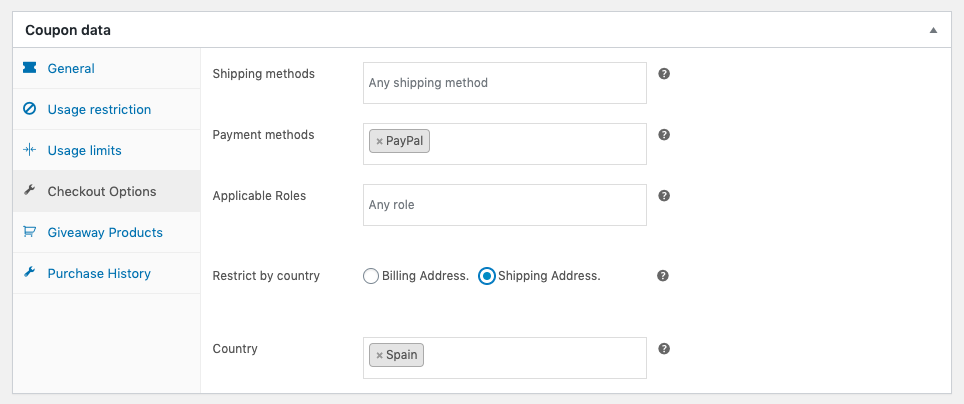 Publish the coupon for your customers; they can redeem it by using the selected payment method for the selected country.
Top Ways To Promote WooCommerce Free Shipping Coupons Within Your Store
Put up a limited-time free shipping banner on your website
The FOMO effect (Fear Of Missing Out) has its way of getting people into doing what they want. Therefore, a limited-time offer will persuade your customers to hurry the decision-making process.

Plus, adding promotions in banners captures your website visitors' attention quickly. You can use the coupon plugin Smart Coupons for WooCommerce to easily customize and create such sales count-down timer banners for promoting 'WooCommerce free shipping coupons'.
Display the coupons in different locations of your store
Make your customers aware of the WooCommerce free shipping coupons by strategically placing them in high-visibility locations. You can use the same WooCommerce coupon plugin mentioned above to set this up seamlessly.

With this WooCommerce smart coupons plugin, you can add coupons under your customers' Cart, Checkout, and My Accounts pages.

For instance, making the coupon visible on the Cart page can help reduce cart abandonment and increase customer satisfaction. This is because customers may become aware of the shipping charges when they see the cart total. Providing an easy way out of the shipping charges (using coupons) on the same page can create a lasting impact.

Leverage the popularity of your social media followers
Social media is a great platform to get the word out, whether it's about coupons or deals. You can send coupons to your social media followers and let them spread the word.

You can use the URL coupon plugin for WooCommerce from WebToffee to create social media sharable URLs and QR codes for your coupons. Clicking or scanning these codes will take the readers directly to your store. You may even configure it to add certain products and auto-apply coupons when the readers click on the URL.

Make the most out of your email subscribers
Email marketing campaigns can also be used to promote your coupon campaigns. You can add coupons to your newsletters and bring in potential customers to your store.

You may also attract customers who have abandoned your cart by offering them 'WooCommerce free shipping coupons via email. The cart abandonment recovery settings in the WooCommerce smart coupons plugin will let you set it up with minimal effort.
Now that you know how to set up shipping coupons with the help of Smart Coupons for WooCommerce plugin. Generate your shipping coupons and let your customers have a great shopping experience with you.
In addition to the free version, the WooCommerce Smart Coupons plugin also has a premium variation. You can get several advanced coupon features like advanced BOGO with it. Check out this blog on advanced coupon plugin features to know more.
Was this article helpful?