Shipping is an important process in an ecommerce business. Many brands start their business with a simple approach to shipping such as free shipping, fast delivery etc. But a successful brand always uses strategic shipping options. Offering shipping coupons is one of them. It also helps to reduce cart abandonment.
Woocommerce supports three shipping methods which are Flat rate, Free shipping and Local pickup. Inbuilt features of WooCommerce can even provide free shipping coupons. But WooCommerce alone cannot offer attractive and advanced deals. For example you have to offer deals as given below.
25% discount on cart for flat rate shipping everywhere in Switzerland

Get 10% discount with PayPal for shipping to Spain
WooCommerce alone cannot do this but with the extension plugin Smart Coupons for WooCommerce you can easily create these types of shipping coupons for your customers.
How to create shipping coupons?
Begin with the installation process:
Download the plugin from API Downloads tab of

My Account

page

Install the downloaded plugin into your WooCommerce site.

Login as site admin and go to Coupons > License page, then activate it using the email and API key that was received in your email.
Now, we'll explain how to create shipping coupons using Smart Coupons for WooCommerce with the above mentioned examples.
Get 25% discount Everywhere in Switzerland for flat rate shipping
Step 1: Create a coupon
Go to

WooCommerce

>

Coupons

from your dashboard.

From the Coupons window click on the

Add Coupon

button.

Enter the

Coupon code

and add an optional

Description

of what the code does.
Eg: Coupon code – 25FRSWITZ
Description – Get 25% discount everywhere in Switzerland for flat rate shipping
Step 2: Configure the general settings
From the

General panel select your preferred discount type (Percentage discount)
Enter a coupon amount (25)
If you want to display the coupon in customers cart select cart from the Make coupon available in

dropdown (optional)
Step 3: Setup checkout options
Navigate to

Checkout Options

panel

Select

Shipping methods from the list (Flat rate)

Select

Shipping Address

radio button to restrict by shipping country

Select the Country

from the list to give discount, here we selected Switzerland as per the example above
We have done all the essential configurations to create a shipping coupon – Get 25% discount Everywhere in Switzerland for flat rate shipping . Publish the coupon code to the customers. If you have made the coupon available in the cart, it will display in the cart page as illustrated below.
So, when you save the rule, the coupon will be applied according to your settings. See below for demonstration of redeeming the created coupon.
Get 10% discount with PayPal for shipping to Spain
To generate coupon mentioned in the second example which is, Get 10% discount with PayPal for shipping to Spain.
After adding Coupon code and description according to your requirement, select discount type as Percentage discount and enter a coupon amount as 10. For better understanding see the below screenshot
Now navigate to Checkout Options panel and select payment method as PayPal and restrict the shipping country as Spain.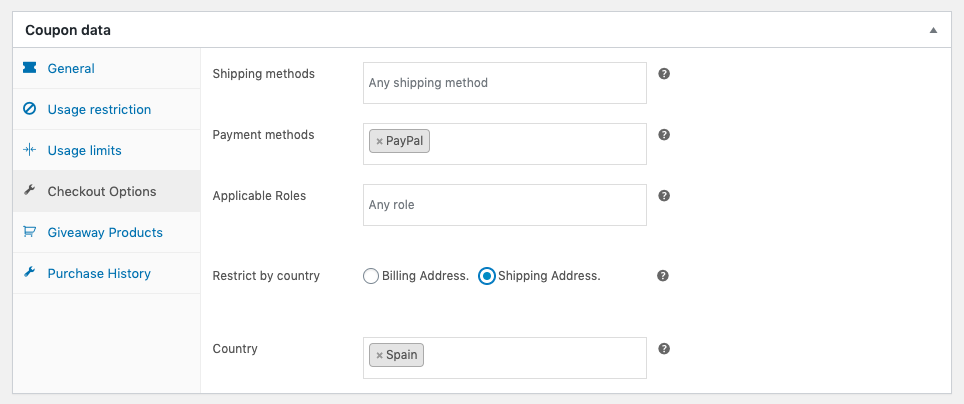 Publish the coupon for your customers and they can redeem the coupon by using the selected payment method for the selected country.
Now that you know how to set up shipping coupons with the help of Smart Coupons for WooCommerce plugin. Generate your own shipping coupons and let your customers have a great experience shopping with you.
Checkout our video tutorial on shipping coupons to know more on it.
Was this article helpful?