Automatically offering refunds via the original payment method is often considered a potential revenue loss for a WooCommerce business.
You may circumvent this issue by offering store credits instead of direct refunds. This way you can be sure that customers will purchase from your store in the future to redeem these credits.
So how do you set it up? How can you offer store credits automatically upon issuing refunds, rather than manually creating custom credit vouchers to be sent to customers? We will look into this here.
Prerequisites for setting up WooCommerce store credit refunds
You will need an external tool such as a plugin to generate WooCommerce store credit refunds in your store built on WooCommerce.
The WebToffee WooCommerce Gift Cards is one such plugin that offers you this along with several other WooCommerce gift cards related features.
Since the WebToffee WooCommerce gift cards plugin is a third-party tool, you will have to purchase the plugin from WebToffee and then install it in WordPress.
How to set up WooCommerce store credit refunds?
So let's see how to set up WooCommerce store credit refunds with the Gift cards for WooCommerce plugin.
Log in to your WordPress admin account and go to Plugins > Add New.
Click on Upload Plugin and select the plugin zip file that you receive after its purchase.
Once that's done, click on Install Now and then on Activate.
Carefully follow these steps to ensure the appropriate installation of the plugin in WordPress.
That's it, you don't have to configure anything more to enable refunding as store credits in WooCommerce. This out-of-the-box feature will now be available for all refunds from now on.
How to issue WooCommerce store credit refunds?
Now that we have looked into enabling this feature, let's see how to actually issue such a refund in your WooCommerce store.
Note that, only the admin can issue store credit refunds in WooCommerce this way. The customers will not be able to select the method via which they can receive refunds.
For the admin to issue WooCommerce refunds as store credits,
Go to WooCommerce > Orders and click on the order that you want to refund.
Click on the button named Refund.
This will add text fields below the quantity and total in the item table. Specify the number of items or the price to be refunded.
Once you select the item or the amount to be refunded, click on the button Refund $x to store credit.
This amount will be automatically added to the customer's store credit. You can cross-check if the amount is credited by going to Gift Cards > Manage user credits and clicking on View details corresponding to the required user.
Your customers can see the credit acquired by going to their My Account > Store credit.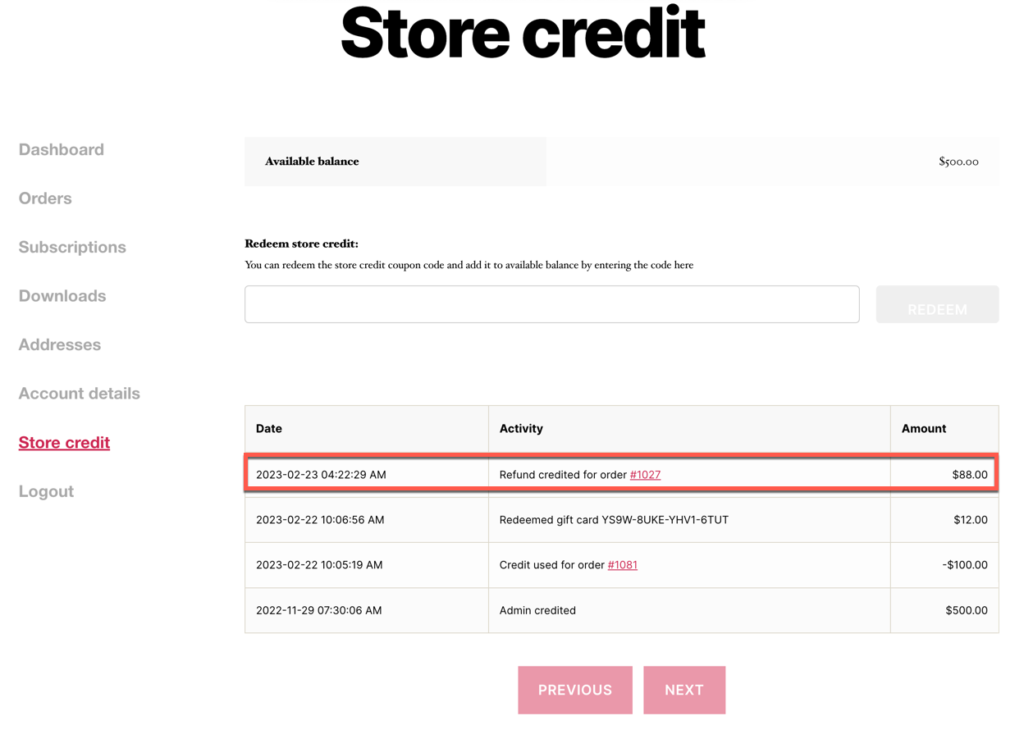 The customers will also be notified of the WooCommerce refund to store credit in the refund email that WooCommerce sends out to customers.
Benefits of issuing WooCommerce store credit refunds
Offering store credits instead of actual refunds has several benefits, not just for you but also for your customers. Some of the key benefits include good old-fashioned convenience and flexibility for both parties involved.
For store owners, this technique would help with retaining customers and reducing return costs. Here the return cost implies the charges the payment gateways acquired when each transaction takes place.
In the case of customers, store credit refunds guarantee immediate fund transfer and therefore immediate purchase power. Also, such refunds ensure better value for money to the customers.
Let's take an example to understand this better. Say, your customer purchased a shirt for $X for which they paid $X + $Y (here $Y will be the convenience chargers that the banks or payment gateways charge). But they want to return it and repurchase the shirt in a different size. So instead of refunding $X (for which you might get charged) to the customer, you can offer $X as store credit.
This would eliminate the need for paying $Y (by customers) again during the repurchase. This is because the customer will be using the store credit and is not employing any payment gateways in the process. This helps to cut down costs for both you and the customer.
When to consider issuing store credit refunds?
Store credit refunds may not be appropriate in all situations. You will have to make rational decisions on when to offer such refunds by taking into consideration the requirements of the users.
For example, store credits would be a wonderful opportunity to retain new customers in your store. Say, if you have to issue refunds for a user who has never previously purchased from you, you can offer store credits to ensure that they will return to your store.
However, that might not be the case if the customer has previously expressed any dissatisfaction. For example, if the customer complains about the quality of the product or service, issuing a full refund via the payment method might be necessary to pacify them and save your store from negative reviews.
So, you will have to weigh in different factors such as customers' needs and your business demands to make a decision on missing store credit refunds.
Communicating with customers about WooCommerce store credit refunds
Communicating about the refund process and how customers can then use the store credits accrued so far would go a long way in setting up a great customer relationship.
With the WebToffee WooCommerce gift card plugin, such alerts will be automatically sent out to customers once the refund has been processed. Since the credit is refunded to the store credit balance itself, the refund process is almost instantaneous and this allows customers to utilize the credits without any delay.
WebToffee WooCommerce Gift Cards plugin
This premium plugin from WebToffee facilitates creating WooCommerce gift card products that are purchasable for your customers.
The gift card products purchased by your customers can be emailed directly to your customers or they can print the cards from your store.
The key features of the plugin include,
Creating gift card products
Enabling customers to email or print gift cards
Restricting when the gift cards can be used
Offer refunds as store credits
Disabling deducting gift card credits before calculating the tax
Pre-build gift card templates
If interested, take a look at the complete comparison between WebToffee and YITH WooCommerce gift card plugins.
Wrap up
Automatically issuing store credit refunds in WooCommerce is an important feature that has a very high significance. The proper usage of this option can result in better customer satisfaction, improved revenue, and the soaring popularity of your WooCommerce platform.
Though WooCommerce store credit refunds can be volatile at times, the proper utilization of such a feature guarantees better store performance. The WebToffee WooCommerce gift cards plugin offers store credit refunds out-of-box. That is zero extra time for setup and zero effort.
Nevertheless, the plugin also helps you communicate the store credit refunds to customers via WooCommerce refund emails. This means that the plugin will assist you in doing everything regarding automated WooCommerce store credit refunds so as to reduce your workload.
We encourage you to use store credit refunds as a way to improve your eCommerce store's customer service.
Was this article helpful?