Sending out emails, especially emails that are beneficial to customers encourages them to interact with you more. Be that may be an increase in email subscriptions or betterment in sales – the emails would have helped you move one step closer to your goal of 'increased revenue'.
Attaching WooCommerce coupon codes in the emails sent out to customers would drastically increase customer interaction and therefore the open rate of your emails. Your customers can make use of these WooCommerce coupon codes to purchase from you.
So how do you set up such WooCommerce coupon codes and how do you send them as emails? Well, you will need an external plugin to help you with setting up unique WooCommerce coupon codes and sending them out to customers.
You will be able to set this up with the WooCommerce coupon code plugin – Smart Coupons for WooCommerce from WebToffee. Let's see how you can do that through this blog. 
How do emailing WooCommerce coupon codes benefit your business?
Customers love deals and discounts, moreover, if you offer it to them personally in their inbox better the chances of creating a good relationship with them. This relationship would help you gain more conversions and revenue in the future.
Maintaining a good relationship with a customer would also help you earn more customers. This is because word-of-mouth marketing is still one of the best and most effective marketing tools out there. So a single review or endorsement from a satisfied customer is worth a lot more than a single one-time purchase.
Also by creating and offering WooCommerce coupon codes you are encouraging your customers to make new orders. That is a customer who may be thinking about purchasing something but is holding back going for the purchase if you offer them an incentive such as a unique WooCommerce coupon code.
How to bulk generate unique WooCommerce coupon codes and email them to customers?
Manually creating WooCommerce coupons and emailing them to individual users is a tiresome and inefficient way. The easiest way to do this is by identifying the users and automating the process of creation and emailing. 
You will need this in several scenarios. For example, offering WooCommerce coupon codes to new email subscribers and new users.
To do this, you will need a third-party plugin as such advanced features are not available by default in WooCommerce. Smart Coupons for WooCommerce from WebToffee is a WooCommerce coupon code plugin that lets you bulk generate unique coupon codes for WooCommerce and send them out to customers. Let's see how you can do that.
Prerequisite
The premium version of the WooCommerce discount coupon plugin has to be purchased, installed, and activated on your WordPress store. Once you have completed the purchase and downloaded the plugin zip file, you can install it on your WordPress site by, 
Navigate to Plugins > Add New from the WordPress admin dashboard.
Upload the plugin zip file and click on Install Now.
Once the plugin is installed, follow the on-screen instructions to activate the plugin.
This will add a new section titled Smart Coupons to the left navigation bar of your WordPress admin console.
Bulk-generating WooCommerce coupon codes
To create unique WooCommerce coupon codes in bulk based on pre-set rules,
Go to Smart Coupons > Bulk generate.
Specify the number of coupons that should be created and sent under No of coupons generated.
Choose the option Generate coupons and, Email to the recipients.
Click on the General tab in the Coupon data widget.
Choose the Discount type. The plugin offers several options such as percentage discounts, BOGO offers, and more, select one that seems suitable for your requirements. 
Specify the Coupon amount.
If you want to enable free shipping along with a discount check the box corresponding to Allow free shipping.
Check the box corresponding to Apply coupon automatically if you want the coupon to be applied without any manual interactions.
If you want this coupon to be displayed in the My Account, Cart, or Checkout pages of your store, select it under the option Display coupon in.
Under the Coupon format specify the prefix, suffix, and length of the coupon code. 
Configure other coupon general settings such as WooCommerce coupon scheduling if required.
Go to the Usage restriction tab and specify the restrictions such as maximum and minimum spending, product and category restrictions, and more.
Under the Allowed emails option enter all the email addresses to which you want to send unique WooCommerce coupon codes. Separate each entry with a comma.
Configure other WooCommerce coupon restrictions including usage limits, checkout options, giveaway products, purchase history, maximum discount limit, etc. 
For example, to create purchase history-based coupons, click on Purchase history and specify minimum order or order total conditions.
Click on Generate coupon to initiate the generation of unique WooCommerce coupon codes.
Note: This method considers the most restrictive features and will generate the least number of coupons specified. That is, it only generates enough no. of coupons depending on whichever is the lowest value, either the coupon number or the number of emails.
This will create coupons with set restrictions. These coupons will then be automatically emailed to the recipient's email addresses. The coupon email will look like this in the customer's email inbox. Your customers can use this coupon code at checkout to redeem the coupon discount.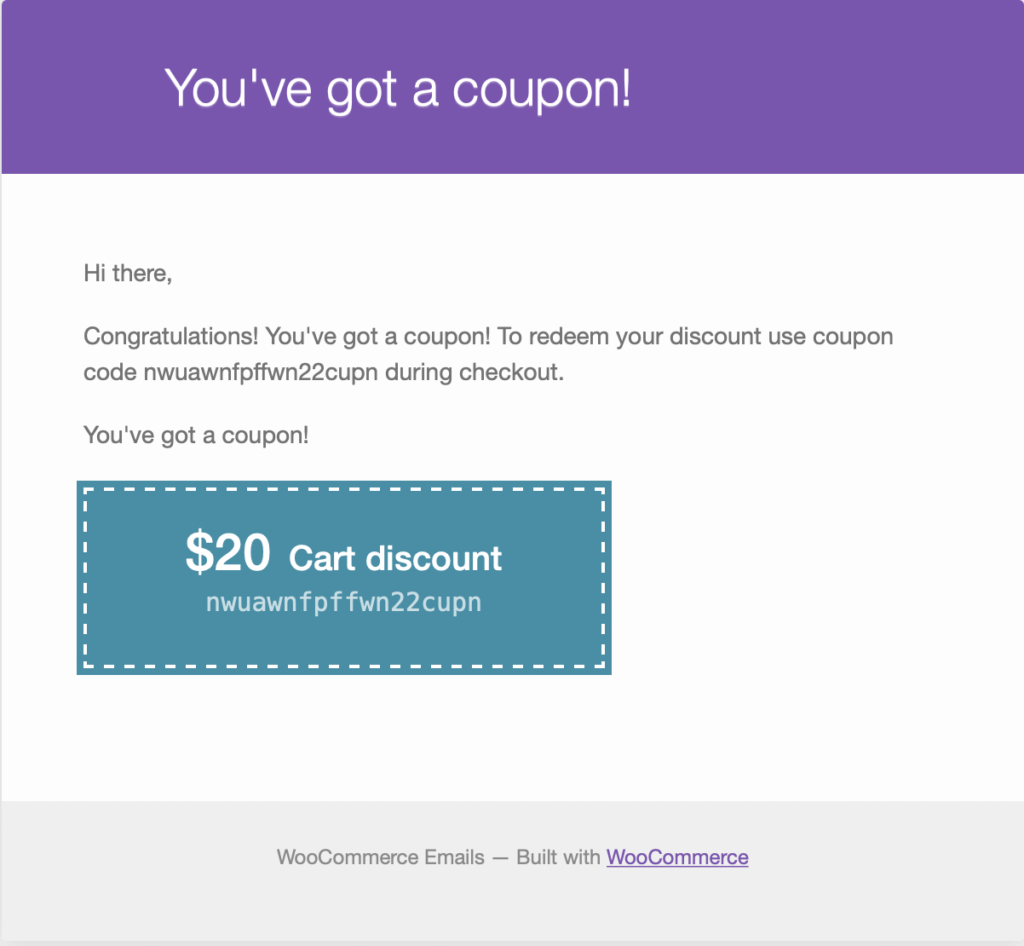 Conclusion
In conclusion, emailing WooCommerce coupon codes to customers is a great way to increase sales and customer loyalty. By using the WooCommerce smart coupon functionality, store owners can easily create and send unique codes to customers. 
This can be done through automated email campaigns for sending codes to specific customers. By offering personalized discounts and incentives, store owners can encourage repeat purchases and build long-term relationships with customers. Overall, incorporating unique coupon codes into your email marketing strategy is a simple and effective way to boost sales and customer engagement.
Hope you found this blog to be informative. Do inform us of your questions and confusions in the comments section below.
Was this article helpful?