'Limited-time discounts' usually come with tags like Hurry up, Ends in two days, Last chance, Until stock lasts, and so on to grab the customers attention and creates a sense of urgency.
Configure coupons with a definite start time and expiry time to behave as a 'Limited time discount'.  You can use Smart Coupon for WooCommerce plugin to achieve this.
Let us see how an EOS (End of season sale) with a flat 50% discount storewide + free shipping from 15th March to 30th March can be implemented using smart coupon:
Download, install, and activate the plugin, navigate to WooCommerce > Coupons.
From the coupon window which opens up, click on Add coupon to create a new coupon.
The Add Coupon panel opens up.
From the discount type drop-down, select the percentage discount and mark the discount value as 50 as we have to design a flat50% coupon.
Next, tick the Allow free shipping checkbox to enable free shipping for all orders during the selected period.
Now select the Coupon start date and the expiry date of the coupon from the date chooser.
Optionally, you can make the coupon apply automatically by selecting the Apply coupon automatically checkbox.
You can control the visibility of your coupon in My Account, Cart, and Checkout by selecting respective options from this field.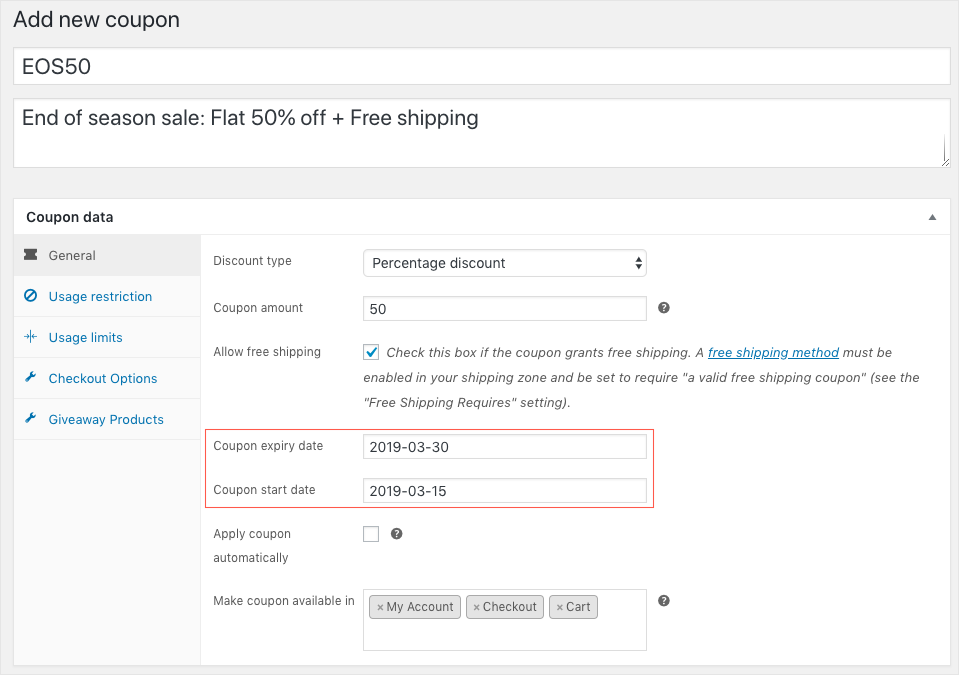 The buyer can simply use the coupon code EOS50 to avail of the limited-time offer. Redeem the coupon during the time period specified.
Visit our documentation and product page to know more about the smart coupon plugin.