Since categories are a useful way to sort and organize your products, our Product Import Export Plugin For WooCommerce enables you to import hierarchical category structures as well as multiple categories that are associated with a specific product. Hence, you can easily import your categories and subcategories from a CSV/ XML file.
Product categories must be entered in the uploading CSV/XML file. While importing, if a product has multiple categories, they are separated by '|', and if a product has a category with a hierarchical structure, they are separated with '>'.
Steps to Import WooCommerce Product Categories
Let us understand this procedure with the help of the following example:
Suppose, you have the following two products in your CSV file. The products with respective categories are as shown in a sample CSV below:
Note: You can download a sample CSV here.
Following are the steps to import products with their respective categories:
Navigate to WooCommerce > Product Im-Ex section of the plugin. Under Product > Import, move to Import Product in CSV /XML Format section, as shown below:
Import settings: Choose a file from the file selection option and click Upload file and import. You can also map the fields with column headings (CSV file header), and use Evaluation field to fix/update the required value for the particular field. Finally, click Submit to import the products into your online store.
To know more about importing products, read this article.
Once the import is successful, we can see the products have come perfectly into the system.
The plugin also generates thumbnails for products by using the URL of images which is specified in the CSV file.
To import images with products using the plugin, read import WooCommerce products with images.
The products get imported as shown below:
The following are the product edit pages of the respective simple and variable products.
Simple Product
In the above image, you can see the simple product – Samsung Galaxy Ace Duos is imported to WooCommerce with a product category Mobile Phone, as specified in the CSV.
Variation Product
In the above image, you can see the variation product – Men's Cotton T-Shirt is imported to WooCommerce with the hierarchical product category, as specified in the CSV.
You can view the imported categories under Products > Categories section. It is as shown below: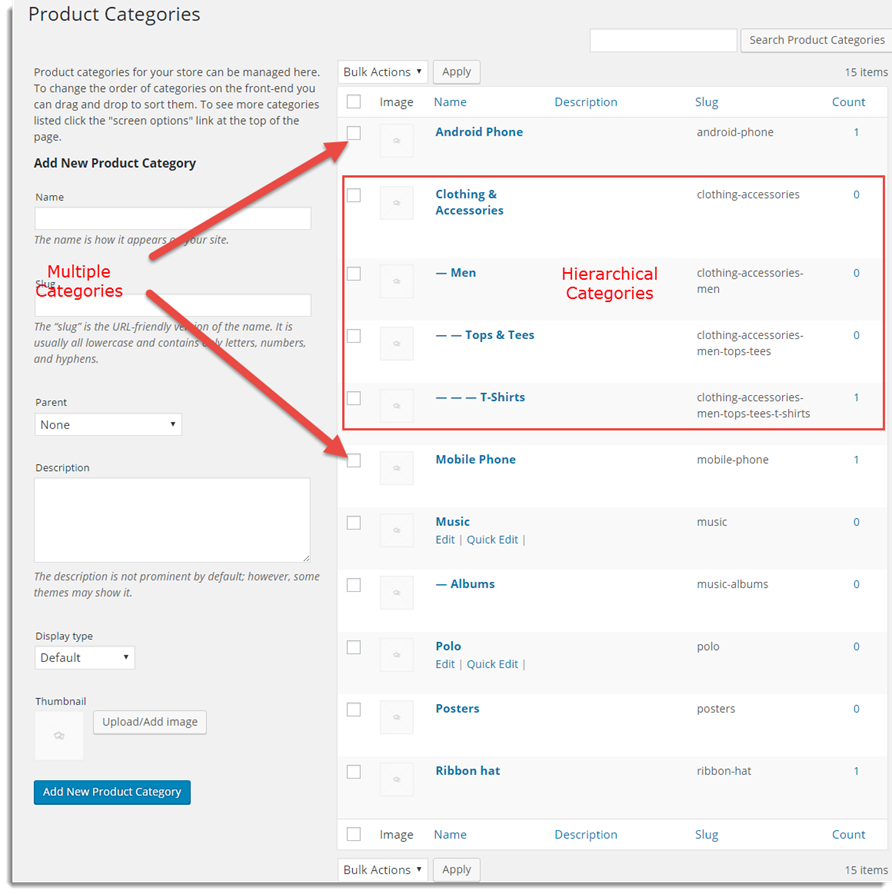 To know more about other features of the plugin, read the documentation.
The Best Product Import Export Plugin for WooCommerce
#1 in WordPress Official Plugin Repository With 70,000+ Active Installs
#1 in Customer Satisfaction With Most 5 Star Reviews
WebToffee Guarantee: Get Your Money Back if You Are Not Satisfied With The Product
Buy Now!